---
Welcome to Golden Lion Grrrages
---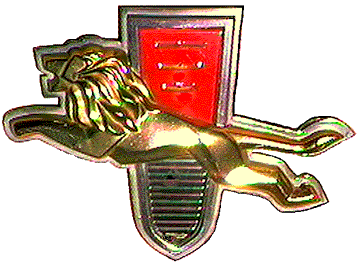 Golden Lion Grrrages is a collection of Chrysler products from the 30's, 50's and 60's,
with an emphasis on the Chrysler 300 Letter series.

Chrysler 300 Letter cars were made from 1955 to 1965.
The 1955 model was known as the "300".
For 1956 it was known as the "300B", for 1957 it was the "300C" and so on.
This method of designation created the idea of "Letter Cars".

Known as the "Banker's Hotrod", Letter Cars were expensive toys with
high performance engines, leather interiors, and special styling.
Letter cars were rare even when they were new.
The total production of Letter Cars from 1955 to 1965 was 16,856.
It is estimated that 3,897 exist today.


The idea for the name "Golden Lion Grrrages" grew
from the two "lions" pictured on page 2 and the
Lion symbol used by Chrysler from 1955 to 1962.